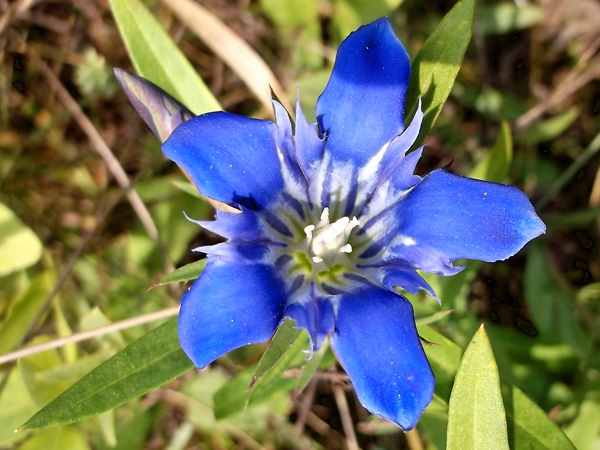 Found growing on dry hill prairies and well drained mesic prairies, Downy Gentian (Gentiana puberulenta) is a real knock-out.  Just as many plants are looking the worse for wear, or are huge five foot tall plants in bloom at this time of year, Downy Gentian is a true exception.  At only one foot tall, its royal blue flowers are a fall surprise amongst all of the yellow goldenrods and sunflowers.
My first encounter with Downy Gentian was in a smallish, unmanaged remnant prairie south of Chicago.  I was immediately smitten by the bright, one and a half inch wide, star-shaped flowers.  When the time was right, I went back to collect seed – although, from the holes that I saw, I realized that another intrepid gardener was digging the plants – not good.  That October, I sowed the tiny seeds in flats of soil and protected them from digging varmints with window screen laid on top of the seed flats.  I had been successful in propagating Bottle Gentian (G. andrewsii) and Yellowish Gentian (G. flavida) by this method.  Not so with Downy Gentian.  The following spring, when other seeds where sprouting in my native plant nursery, the flat of Downy Gentian only grew weeds.

I, of course, tried again the following year.  No luck.  So, ten years on, I was very surprised to see my favorite fall flower, blooming in a little prairie restoration I had worked on.  I had planted Rattlesnake Master, Rough Blazingstar, Indiangrass, Big Bluestem, Prairie Dock, and others – both by plant and by seed.  All of those grasses and wildflowers took off, and filled in the area left bare by the utility company workers.  In frustration, I must have also sown my remaining Downy Gentian seed as well, because there is was in bloom, so many years later – I could not have been more surprised if I had found gold coins laying on the ground!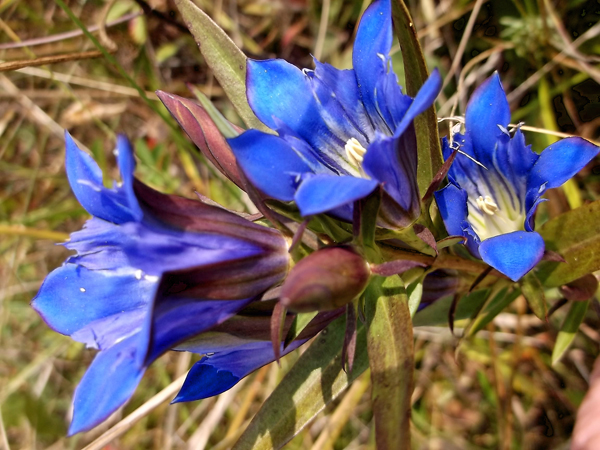 I collected seed from these new plants and cast them out into my little backyard prairie, hoping that in ten years (or less) it would also be home to the elusive Downy Gentian.  This year, I will also plant a flat of seeds as well – maybe I will have better luck this time around.