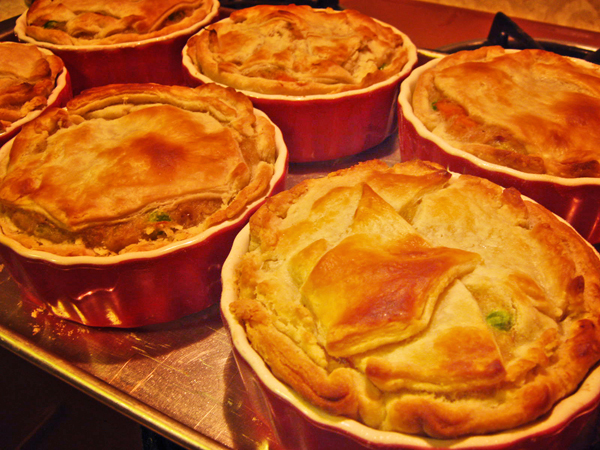 Growing up, store bought Banquet chicken potpies were almost always in the freezer, ready for a quick last minute dinner – I loved them, especially in winter, they're great comfort food.  As with many of my childhood favorites, however, including pizza, egg rolls, and giant soft pretzels, I wanted to try my hand at making a great homemade version of my childhood favorite.
The first thing I learned, is that the definition of "potpie" is a bit slippery.  Most recipes have only a top crust, some traditional versions apparently have no crust – just a thick stew in a, wait for it … pot.   When I visited the Walnut Room at the downtown Chicago Marshall Field's Department Store a few years back, I of course ordered their famous chicken potpie.  What I remember being served was a ramekin of chicken stew with a croissant set on top of it – not what I was expecting.  Maybe they ran out of pastry crust that day, or decided that puff pastry was ok to use instead of a flakey pastry crust – and where the heck was the bottom crust? – that was missing all together – this was not at all what I was expecting.   Maybe what I wanted was not a true potpie, but simply a better version of what Banquet was calling a potpie – off to the kitchen.
Or rather, to the cookbooks and Google.  Ida Baily's cook book from 1932 would certainly have a good recipe … or not.  She had versions of meat pies with biscuits on top, meat turnovers – not the historic precedent that I was looking for.  Same for The Joy of Cooking.  Martha Stewart, certainly – well, she came close to what I was looking for, but she also had no bottom crust, and her filling was not what I was trying to achieve with my version.

Ok, so after making chicken and dumplings last year, I thought, "Hey, this could make a great potpie filling."  And so it did, minus the dumplings.  Now for the crust.
I tried several recipes, some were too buttery – distracting.  An all lard crust was very flaky, but seemed kind of dry – good, but still lacking what I had in mind.  Maybe half butter, and half shortening? BINGO.  To my taste, both vegetable shortening (such as Crisco) and lard worked equally well with butter in the pastry recipe which follows.  I am not sure which is healthier, but, for me the taste is the same.  Ida Baily Allen, in her 1932 Cooking Menus Service cookbook, even mentions that half the total shortening could be cream cheese – hmmm.  I haven't tried that in this recipe, but have used cream cheese in making pecan tassie dough, and it's great, so why not?
The pie crust recipe that I went with actually came from the 2006 Marshall Field's Cookbook (which I bought last year at an estate sale for $3) which included "Mrs. Hering's Famous Chicken Potpie".  The recipe is pretty much the same as any other pie crust recipe, except for the fact that it calls for ½ cup butter, and ¼ cup shortening .. and that is a very important and key difference.  I've also used Martha Stewart's "basic pie dough" recipe and it works well if half the butter is substituted with lard or shortening.  Her recipe can be found here.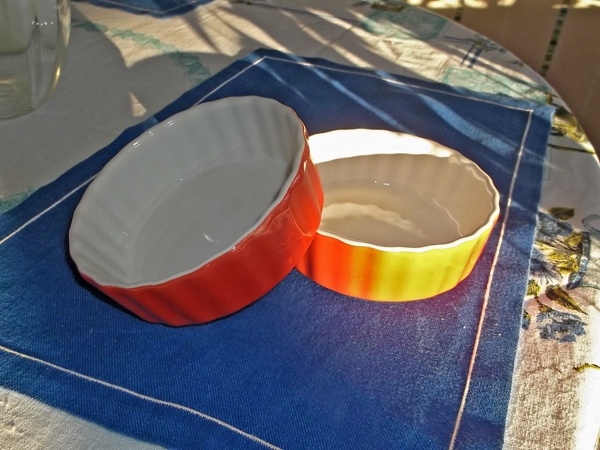 With Banquet pot pies as the model, I went in search of little four inch round aluminum pie plates.  Off to the dollar store.  While in the Dollar Tree store, I scanned a lot of disposable foil cookware – however, no mini pie plates, sadly.  Just as well though, since they did have ceramic ramekins for a dollar each. BINGO.  I bought nine.  At 4 ½ inches across and holding 8oz (one cup), they were perfect.
Day One

Admittedly, making homemade potpies is not as easy as opening the freezer, pulling out a pie, and baking – but that is why, when I do make them, I make a lot, and freeze most for future dinners.  What follows is the nuts and bolts of making my unique (as it turns out) version of chicken potpies.
Crust Recipe
1 ½ c

ups all purpose flour

1 ½ teaspoon salt

½ cup of cubed butter, chilled

¼ cup chilled shortening, lard, or cream cheese

3 to 4 tablespoons of ice water
Add first four ingredients to the bowl of a food processor, pulse until mix is crumbly, add water slowly, one tablespoon at a time, pulsing three or four times after each addition.  The resulting mix will be a bit dry, as shown below: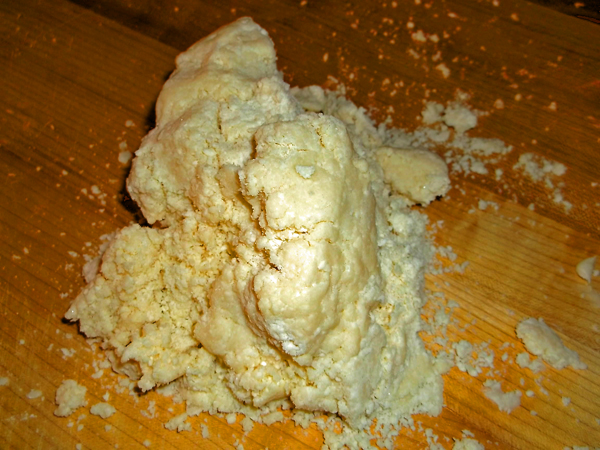 On a clean work surface, press the dough into a flattened round, and wrap in plastic wrap.  Refrigerate for at least one hour, or overnight.  One dough recipe makes three potpies using the ramekins described above.  I made 15 potpies last time so I needed 5 rounds of dough.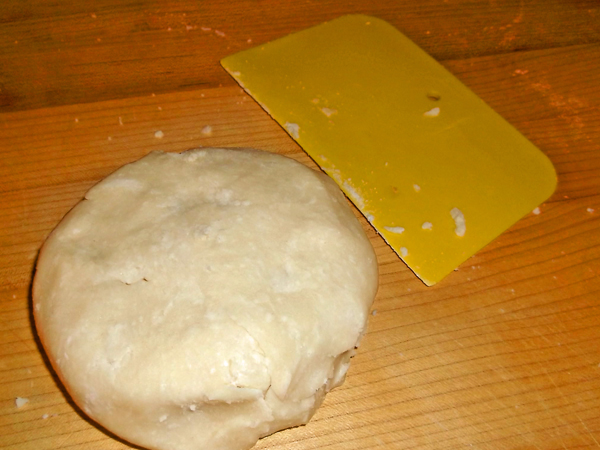 Chicken Filling
For the filling of the potpies, I simply make a thickened chicken soup with lots of shredded chicken meat (dark or white meat) and the addition of a cup or so of frozen peas.
To make the stock you will need:
1 large onion cut in half

4 large carrots coarsely chopped

4 stalks of celery coarsely chopped

4 chicken thighs, with the addition of neck bones, back bones, and wing tips if you have them.

1 tablespoon of whole black peppercorns

8 cups of water

4 chicken bouillon cubes or 2 tablespoons of chicken base

3 bay leaves

Add all of the above ingredients to a large stock pot and simmer over low heat for three hours.  Remove the thigh meat (or breast meat) after one hour of cooking.  Keep the backbones, etc. in the stock for the full three hours.  After three hours, strain the stock, discarding the bones and vegetables. Cool the stock overnight in the refrigerator.  Remove any solidified fat the next day.
Day Two
Bring the strained stock to a simmer and add:
5 peeled and diced carrots

5 chopped stalks of celery

½ cup fresh parsley


Shredded chicken meat from cooked thighs or breasts

1 cup of fresh or frozen peas

Add salt and pepper to taste

Once the above ingredients have come to a simmer, you will need to make a roux to thicken the stock.  To do this, combine in a small pan:
1 stick of butter (

=½ cup

)
1 cup all-purpose flour

Stir mixture over medium high heat for 3 or 4 minutes until bubbling, add the roux to the stock and stir until stock is visibly thickened.   Depending on the amount of stock, you may need to slowly add the addition of a mixture of ½ cup of flour in 1 cup of cold water.  You may, or may not need the whole amount of flour/water mixture to bring the stock to the proper thickness. Set filling aside to cool slightly, or chill overnight.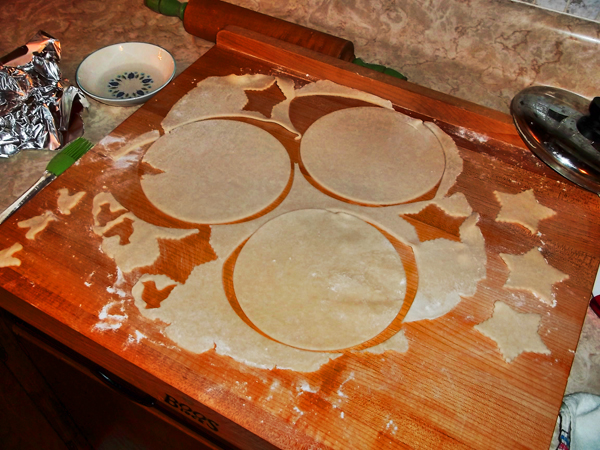 While the filling is cooling off a bit, roll out the chilled pastry dough to approximately 1/8 inch thick.  I just keep rolling out the dough until I can cut out three rounds using a pot lid which cuts out perfect 7 inch disks – the right size to make the bottom crusts in my 4½ inch ramekins. Cut up the remaining scraps for the top crust.  I sometimes cut out shapes with cookie cutters for added decoration.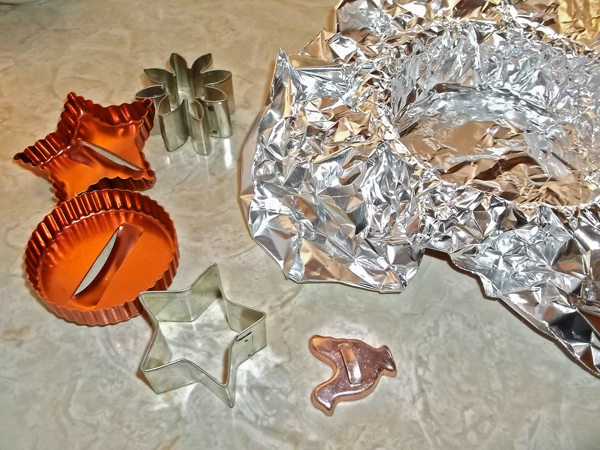 If you plan on freezing some of your potpies for later, line your ramekins with foil before laying in the bottom crust, allow enough foil to fold over the top of the pies when completed.  Remove each foil wrapped pie from the ramekin, place into individual freezer bags and freeze for later use.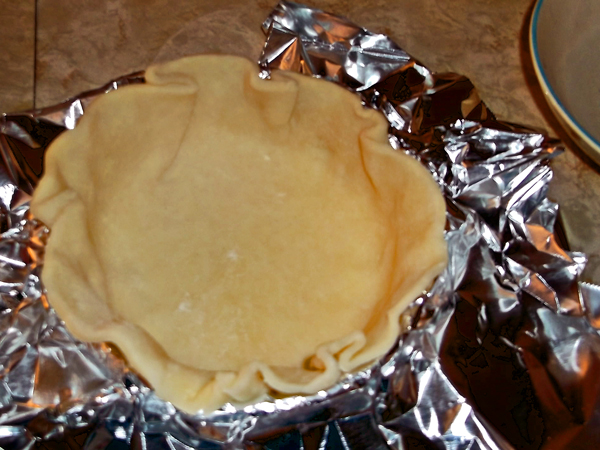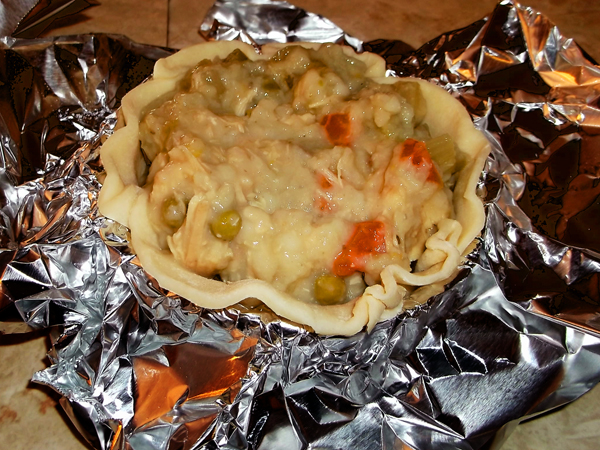 To save time, use a ½ cup ladle to fill the dough lined ramekins with the thick filling.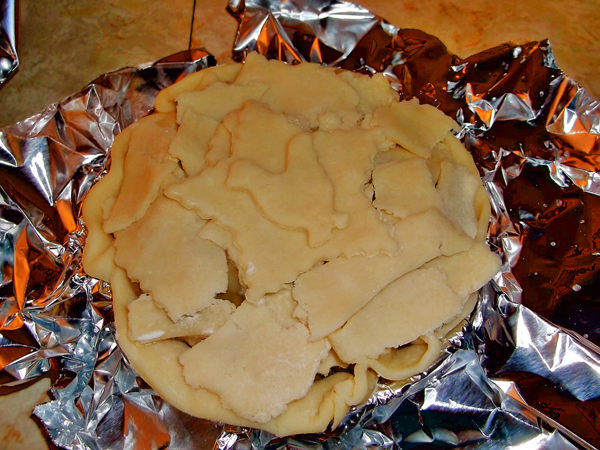 Then top the pies with the scraps of dough left after cutting out the bottom crust rounds.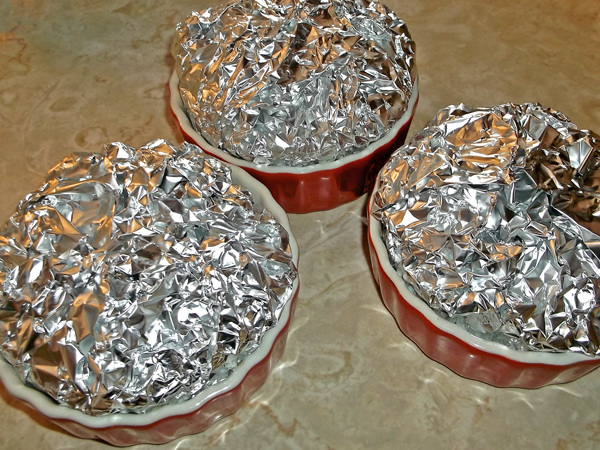 I partially freeze the foil wrapped potpies while still in the ramekins for one hour before removing them from the ramekins and placing the wrapped pies in individual freezer bags – this step helps them keep their shape while handling them without the support of the ceramic ramekins.
Of course, the pies that you are going to bake right away don't need to have a foil liner, they can be baked at 375° F for 20 to 25 minutes or until golden and bubbly.  To bake the frozen pies, you can remove the foil and place the frozen pie in a ramekin to bake, or simply open up the foil, to reveal the top of the potpie and bake on a cookie sheet.  Either way, a cookie sheet under the potpies will collect any drips and make for easier clean up.
The filling for these pot pies can be just about anything that you think might be good, including adding seafood, substituting beef stew for the chicken version, or going completely vegetarian and using what is available from your garden.  I may try a cream of asparagus version of this recipe this spring. Good luck, and I hope that you enjoy my version of chicken potpie as much as I do.