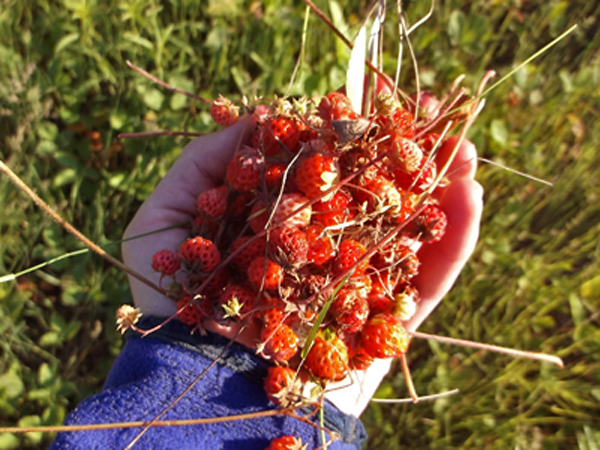 Well, not really, but while foraging for wild strawberries (or, asparagus, blackberries, raspberries, etc.), I can not help but think back to Euell Gibbons hawking Grape Nuts breakfast cereal while I sat and watched my Saturday morning, non-educational, but funny, cartoons.  "Grape Nuts, tastes just like wild hickory nuts!" OK, Euell. 
Still, Euell's book Stalking the Good Life, did enlighten me to the fact that strawberry leaves, in addition to the fruit, are high in Vitamin C (ascorbic acid).  In winter, a tea can be made from the ever present leaves by pouring boiling water over a container of freshly picked leaves.  The covered container is allowed to sit over night, the tea is then strained and chilled.  This tea was tested to have 229 milligrams of vitamin C per 100 grams of leaves.  Euell mixed the tea with cider vinegar and honey. I definitely want to try this come wintertime.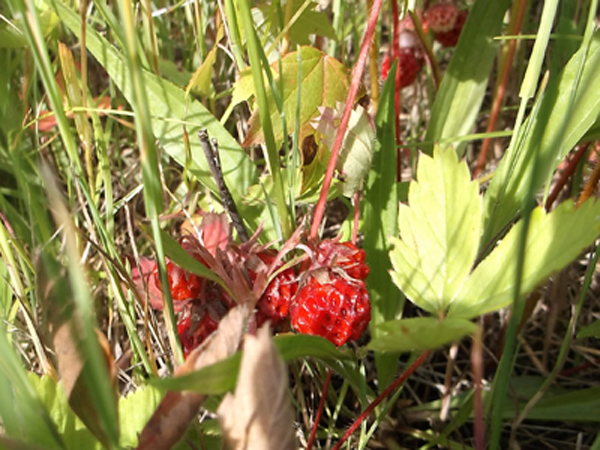 I did not have to travel far to forage for these strawberries, they were growing in my backyard meadow.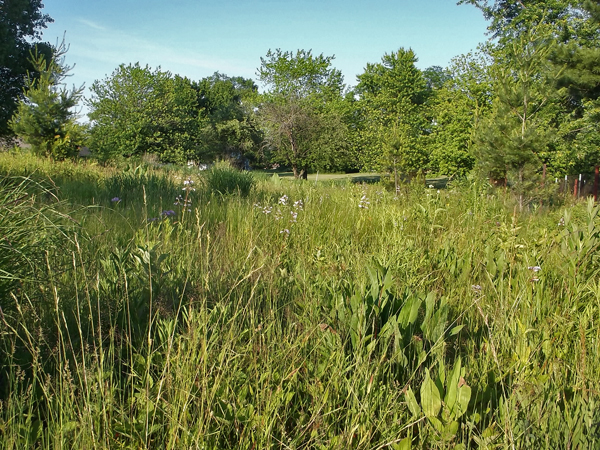 It was getting late in the day, and I wanted to pick just enough to top off a bowl of vanilla ice cream, but it has been a very good year for strawberries, and I could not stop picking them – they all looked so good!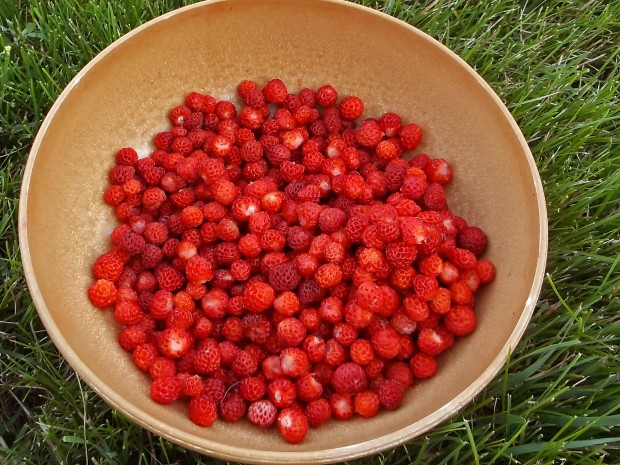 I picked a few more than needed for the ice cream, so I thought I would see how well they froze for future use.  I am not too sure how well this test will work, since I do not expect them to be in my freezer for too long, but I will eat fresh berries, as long as I can, then switch to the frozen ones, after the last harvest.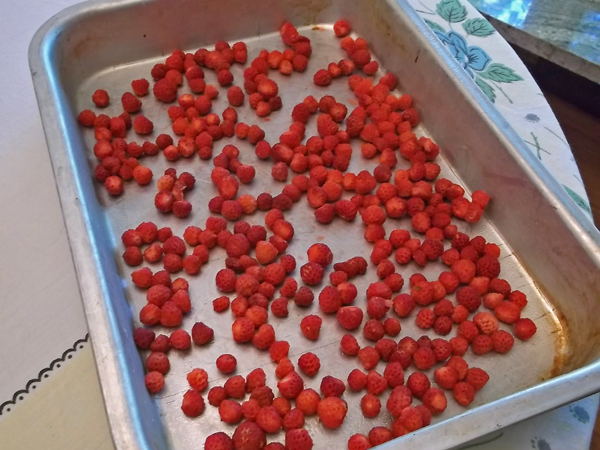 To freeze the berries (an aggregate of drupes, actually), I sprayed a cake pan with a very light coating of oil, then spread out the berries one layer thick and placed them in the freezer.  The next day, I poured the fruit into a zippered freezer bag and placed the bag back in the freezer.  These frozen berries will make a great snack on a hot summer day, or a good addition to pancake batter. 
The fresh strawberries were added to a bowl of vanilla ice cream, with a garnish of mint, from the herb garden – 'cause I'm fancy like that.  It was a nice way to wrap up a busy day.