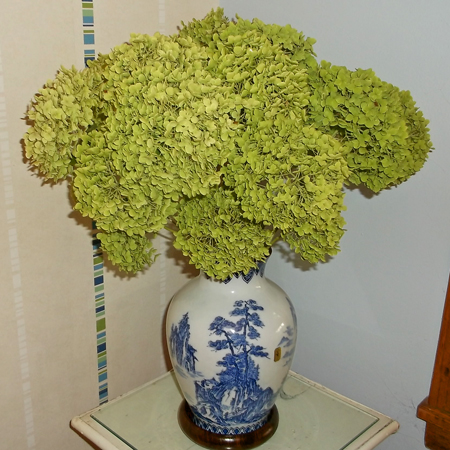 Wanting a change in the corner of my kitchen dining area, I pulled out a vase that I purchased when I was stationed in Hokkaido, Japan.   When I set it on the pedestal, it seemed lost, I needed more height than the vase itself could provide, but not wanting to put water in the vase for fresh cut flowers, I though about throwing in some silk flowers, but then glanced out of the nearby window and saw my 'Annabelle' Hydrangea, in all of it's late summer glory.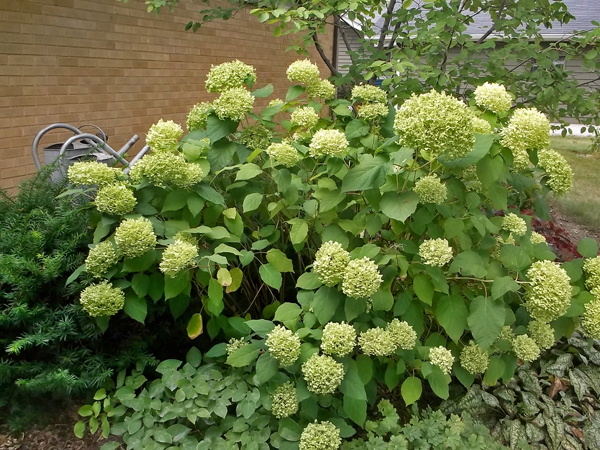 'Annabelle' Smooth Hydrangeas sometimes get a bad rap when it comes to sustainable landscape plant choices, and while it's true that the flowers are sterile, and thereby provide no pollen or nectar for insects,  they do provide, as a native Midwest plant, a low maintenance flowering  shrub for the landscape, a plant that has ornamental interest almost year round, as its white June flower heads turn green in July, and ultimately a straw color in autumn and remain on the plant through the following spring – very nice with showy grasses, such as Switchgrass, Little Bluestem, or Prairie Dropseed.

Knowing, once the hydrangea flowers are have faded from white to green, that the blooms can be cut and used as a dried flower, I headed outside with a pair of hand pruners.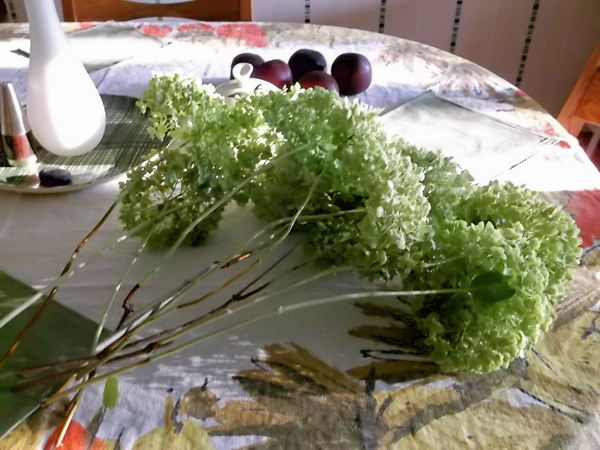 I cut the stems as long as I could, and pulled off the leaves as I went.  When I started to arrange the flowers, however, I found that the stems were still too short to look right in the vase.  Not one easily deterred, I went into the kitchen, grabbed a plastic bag, and stuffed it into to vase.  The bag almost completely filled the vase, leaving just enough room for the hydrangea stems.  Beginning my arrangement once again, I now realized that I needed twice as many flowers as I initially cut, so outside I went, to cut some more.

The arrangement came out better than I had hoped for, and two weeks later, it still looks good, about the same as it did when the flowers were first cut.  The flowers are fully dry, but have kept their green color well.  In the photo below, the right half shows the flowers after two weeks, while the left half shows the fresh cut flowers.  Not much difference really.  Very nice.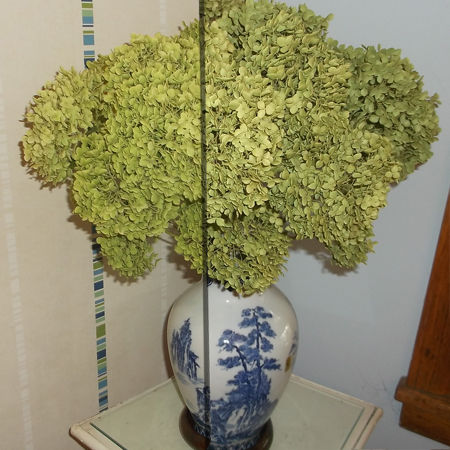 The fresh cut flower heads could also be used to make wreaths for the wall or front door.  The flower heads are the most pliable and forgiving when they are fresh and should be made into arrangements or wired on to wreaths at that time.
The flowers look good, and stay green for a long time.  The photo, below, shows them after two weeks as dried flowers.

They will eventually turn a straw color as this one year old arrangement shows.  One more reason to love the 'Annabelle' Hydrangea, easy long lasting flower arrangements for the home.