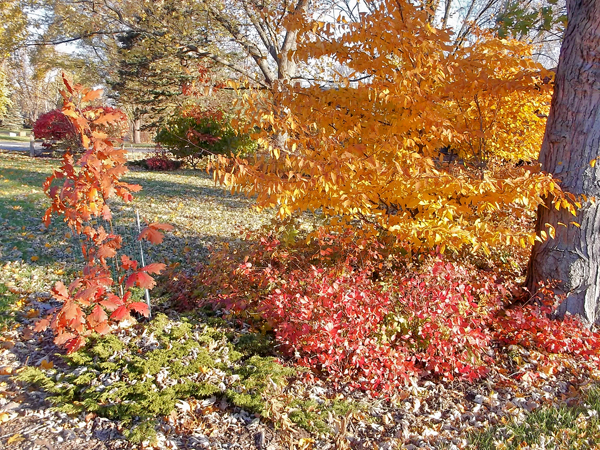 Every week my home landscape reveals something new.  A plant comes in to flower, a deer browses on some newly planted perennials, the first tomatoes are ready to be harvested … for the past couple of weeks, its been fall color changes.  It seems to have been a particularly good autumn of bright golds, oranges, and reds, along with the contrast of evergreen pines and junipers('Mini Arcadia' Juniper is shown above).  Many of my young oaks have shown outstanding color this fall.

I have grown most of  the native plants in my home landscape from seed, two of those, the Red Oak (Quercus rubra) and the Ironwood (Carpinus caroliniana) are shown in the photograph above.  I collected the seed from my parent's yard, a woodland remnant.  The Ironwoods grow along the creek on steep slopes.  Many times, I will find that a beaver has cut down a large number of them, after having failed at felling a large oak nearby.  This year, the Ironwood in my front yard has turned a brilliant gold, really spectacular to see from my frontroom window backlit by the setting sun.  However, because the fall leaf color on Ironwood can vary from red, to orange, to gold, nurseries often will select for red fall color when deciding which plants to line out in their growing fields, so a golden Ironwood may be more difficult to find at a nursery or garden center.
Ironwoods can be found growing in the wild from Maine to Georgia, west to the Mississippi River.  They grow under the shade of White and Red Oaks, on the edge of a woodland, many times, along a stream.  In that situation, the trees are often reaching for the sun, and can get up thirty feet, or more, in height.  In the open landscape, however, a more rounded and shorter form generally results from this low branched tree, with a height and width of twenty feet, or so.  Another option, as was done by the early twentieth century landscape architect, Beatrix Farrand at Dumbarton Oaks in Washington, D.C., is to plant the native Ironwood in rows to form a shaded walk, or allee, and limbed up, revealing the smooth bark, for a quite nice effect.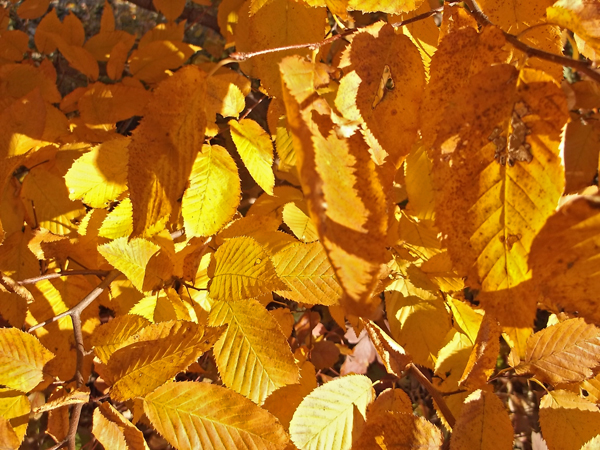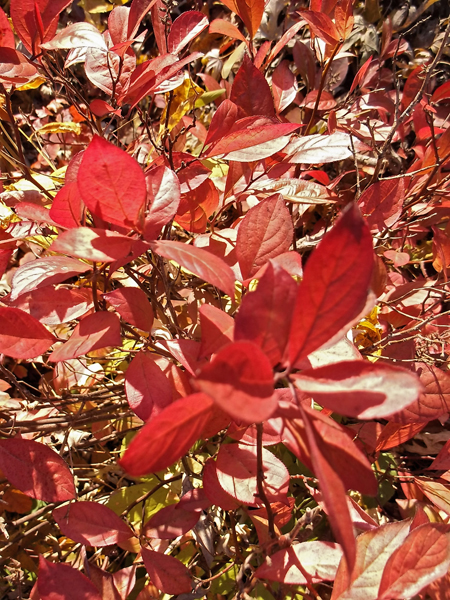 Under, and in front of the Ironwood is Virginia Sweetspire (Itea virginica), an East Coast native small shrub.  The one I chose to plant is the cultivar 'Little Henry' a slightly smaller, at two to three feet tall, version of 'Henry Garnet' (three to four feet), both named, according to Michael Dirr's Manual of Woody Landscape Plants, for Josephine Henry, not for Henry Garnet, who, according to Wikipedia was an "English Jesuit priest executed for his complicity in the Gunpowder Plot of 1605."  In any event, the fall color can be fairly good on the iteas, generally a burgundy red.  It seems, though, that they would be happier with a slightly more acidic soil than that which I am providing for them.  On the upside, the chartreuse/chlorotic summer leaf color is quite nice in an otherwise dark green landscape.  The best fall color is had in sunnier locations, but the plant does quite well in part sun/shade with average soil conditions. Itea, according to Dirr, is hardy from zones 5 to 9.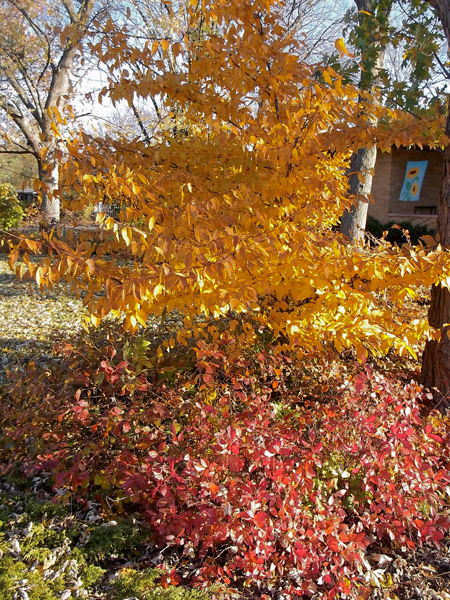 Itea and Carpinus (Virginia Sweetspire and Ironwood) are low maintenance, attractive native plants for the designed landscape.  Moderate (both are streamside plants in the wild) to good drainage and partial to full sun can be tolerated by both.  The Ironwood pictured above, was started from seed in the fall of 2005, and set out in the garden in 2007 as a one foot tall sapling.  Most of the growth has occurred in the last four years. 
Autumn is a great time of year to visit a botanical garden or arboretum and discover plants that put on a great fall display, take photos, write down their names, and decide if they might work for your own location.