Many may be familiar with Allium 'Summer Beauty,' it has become quite popular in recent years, as we've seen at The Grand Geneva Resort. It mixes well with other perennials and can be massed or used dotted throughout a garden.  But if 'Summer Beauty' is the star of the mid-summer landscape, 'Pink Planet' is it's the over the top diva counterpart, a month later.  Big, two to three inch pink balls rise 18 inches above the ground.  There is nothing subtle about this flower.  Most of the summer it is an unassuming tuft of grey-green, slightly twisted, strap-like leaves, then BAM, in mid-August the plant puts on a show not to be missed and not soon to be forgotten.  'Pink Planet' is a new introduction from Brent Horvath at Intrinsic Perennial Gardens, it's availability seems to be somewhat limited, but it's out there.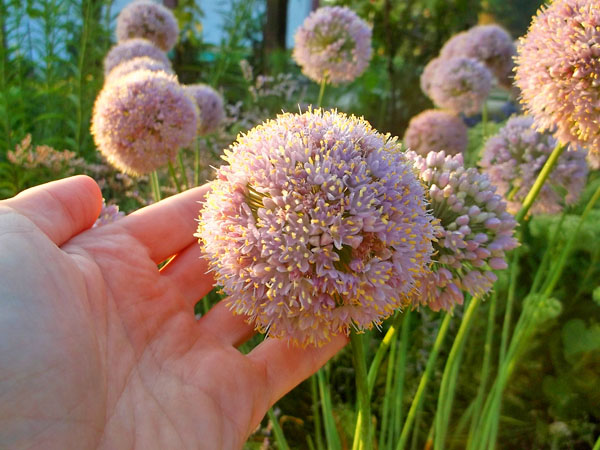 Alliums have many virtues, not the least of which, they are easy care plants.  Sun and good drainage are about all that these deer resistant plants require.  After flower, they can be cut back to the ground to refresh the plants, if desired.  In a few weeks, the plant will be a full mound of foliage again.  Another virtue is that they can be easily divided, since they grow from a cluster of small bulbs that can be dug, pulled apart, and replanted – either in spring, or soon after flowering has occurred.  The plant shown in my garden, which was planted two years ago, will get divided into several new plants next spring.
A good combination planting might include Allium 'Pink Planet' with Sedum 'Autumn Joy' and Tufted Hair Grass, Deschampsia caespitosa 'Goldtau' :


The twelve inch mounded, semi-evergreen foliage of 'Goldtau' is accented with yellow-green flower stalks in August, which contrasts well with the stiff bright green flowers of 'Autumn Joy,' that turn rose, then maroon, and finally a deep brown color in late autumn.  This combination offers an extended season of interest of color, texture, and form.  They also have similar soil moisture tolerances and sun requirements.  For a late summer "WOW" in the garden, Allium 'Pink Planet' is a good choice.