For the last few years, I have been wanting to visit the 360 acre Taltree Arboretum & Gardens in rural Valparaiso, Indiana.  I finally got my chance this past week.  This wonderful place was established in 1998 by Damien and Rita Gabis as a non-profit, educational institution.  The arboretum has several "areas" of interest which include: a new railway garden, woodland garden, children's garden, native plant garden, as well as restored natural areas. Thirty acres of restored tallgrass prairie, surrounded by mature oak/hickory woods, as well as wetlands, brought back to life after many years of being part of agricultural fields, await the visitor.  Approximately 16 acres of former farmland was planted to oaks, and other trees native to the area, to create "oak islands."  The natural areas have trails of varying length winding through them.  Some are paved, others have a natural surface of wood chips.  A map of the arboretum, available at the entry gate, provides information on trail locations, and length.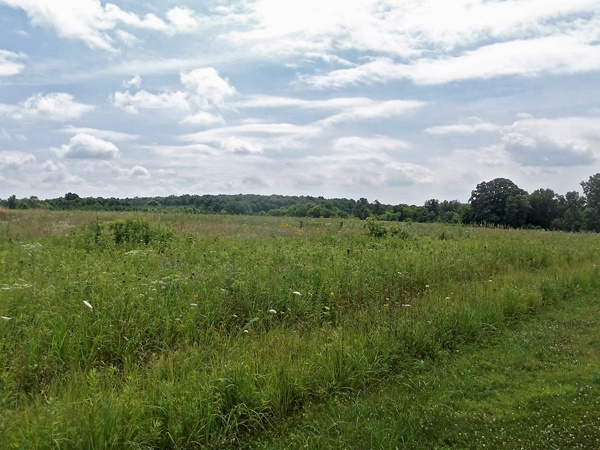 Trails and Natural Areas
I hiked a half mile trail around one of the wetlands.  At the head of the trail is a butterfly garden, then a short distance on, some naturalized plantings surround a large pavilion, with limestone columns and a massive stone fireplace, overlooking the wetland.  Weddings are sometimes held under the shelter of the pavilion's cedar shake roof.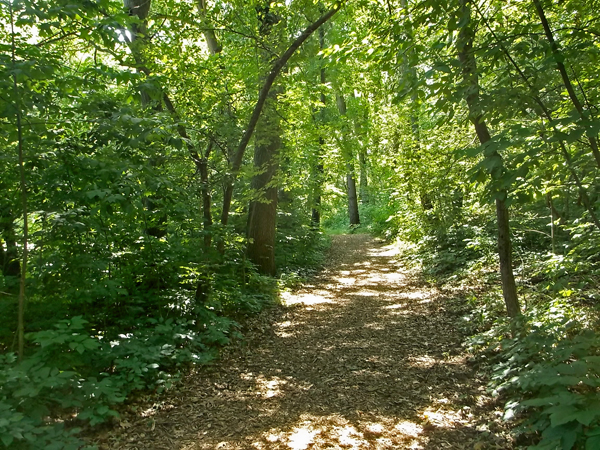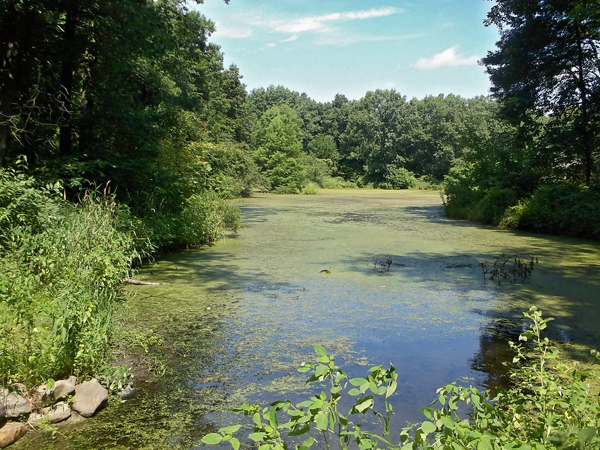 The Visitors Center and Railway Garden

My first stop, however, was at the visitors center/ Taltree Depot – the gateway to the railway garden and the location of restrooms, some food, and a giftshop.  The plantings surrounding the depot are young.  The model railway garden opened in 2011, and is quite impressive in its size and detail.  The attention to detail of this one acre, G-scale, model railway garden is truly amazing.  Scaled creeks, with rapids and waterfalls, run throughout the garden, with trestle bridges crossinging over them.  All along the way, small towns appears, a limestone quarry, even a Civil War Battle is tucked among the scaled down plantings and stonework.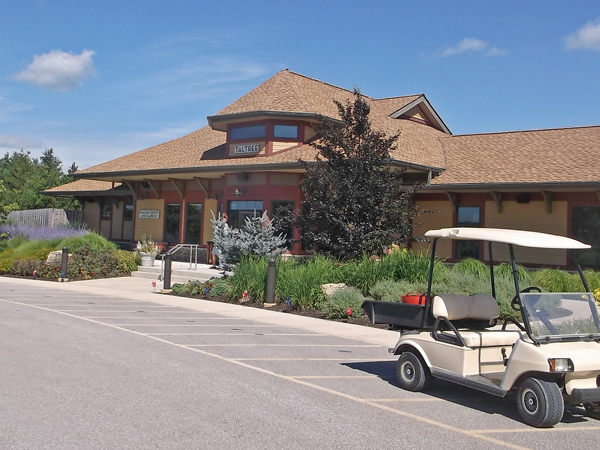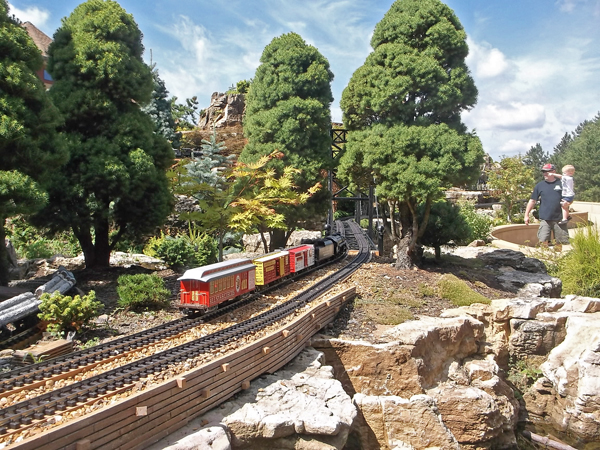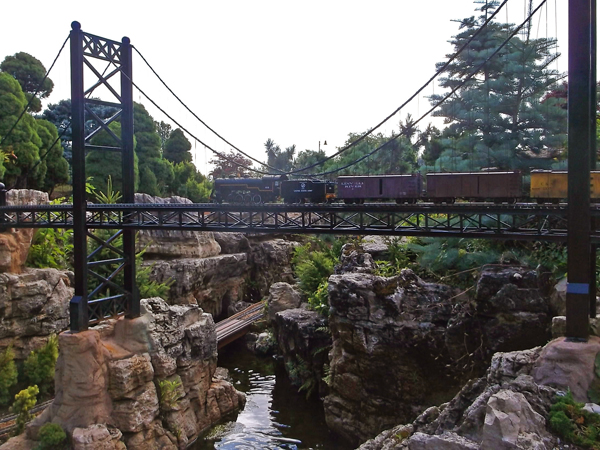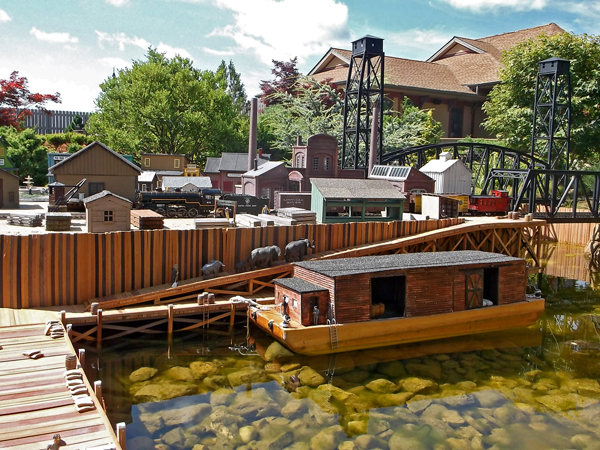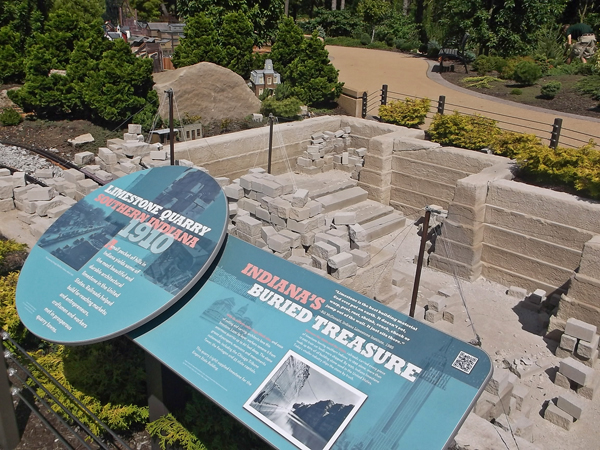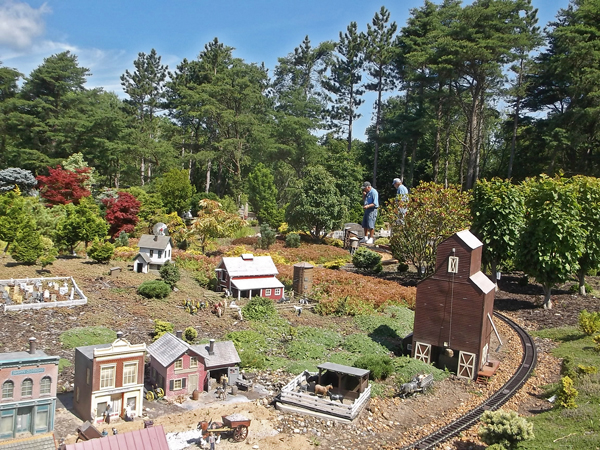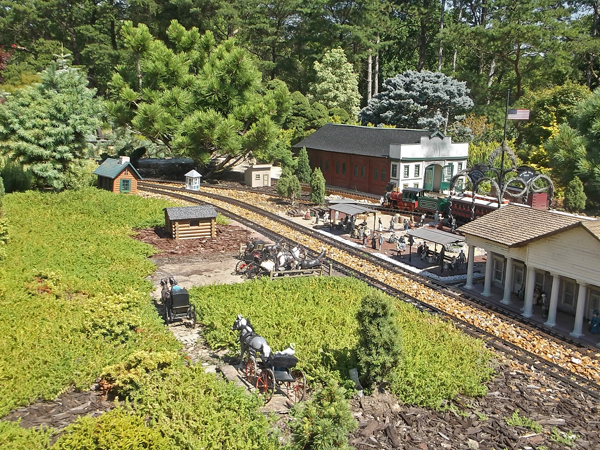 The Native Plant Display Garden

One of my interests was in checking out the native plant garden.  I always like to see how other designers utilize native plants in a garden setting.  What was interesting about this garden was its scale, both the garden itself, and the plants in it.  The raised portion of the garden included plants that did well in dry, sunny conditions.  All of these plants were, on average, shorter than two feet tall, and the small size of the garden made it easy to see how these plants could be used around a home, along a driveway, a patio, or even a sunny parkway bed.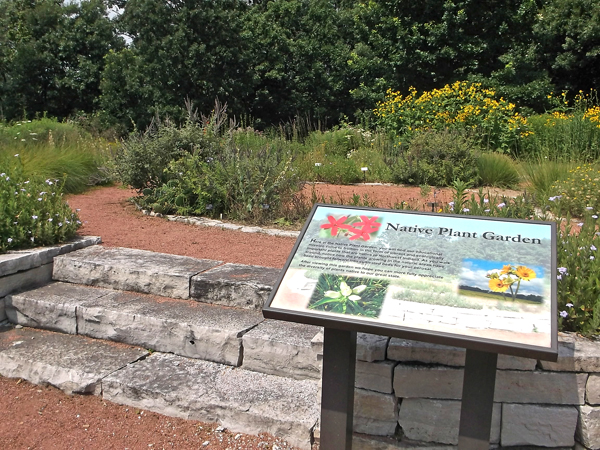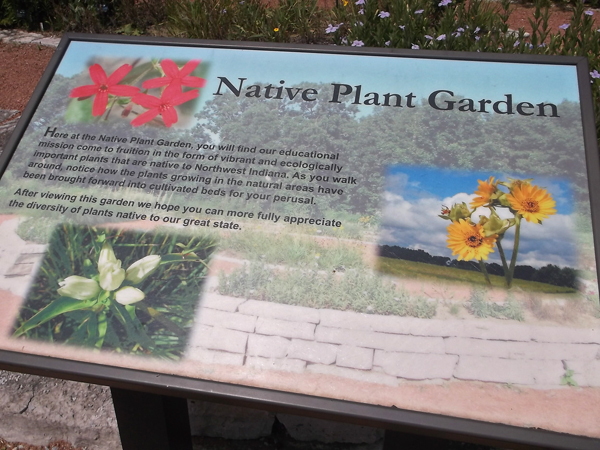 The garden is approximately 40 feet across and raised 18 inches above grade.  The garden is edged in quarried limestone and the paths consist of packed decomposed granite.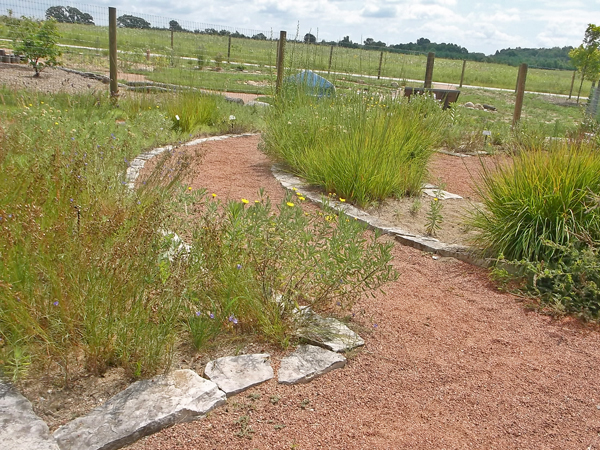 Below, Leadplant (Amorpha canescens) is planted in combination with Little Bluestem Grass (Schizachyrium scoparium).  The blue-gray leaves of both plants exude an almost desert feel, as does the whole garden, which was fun, and different from most native plant gardens that I've seen.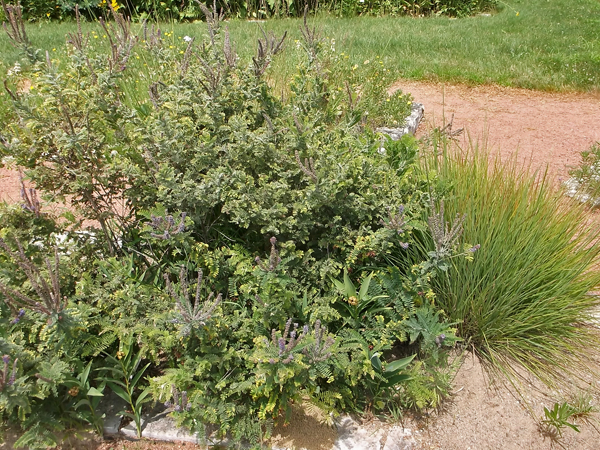 Next to another Leadplant was our Midwest native Prickly Pear Cactus (Opuntia humifusa).  The Opuntia has tissue-like lemon-yellow flowers in June, followed by red fruit, or "pears."  The fruit, which is edible, is still green in the picture below, but can be seen at the tips of the cactus pads.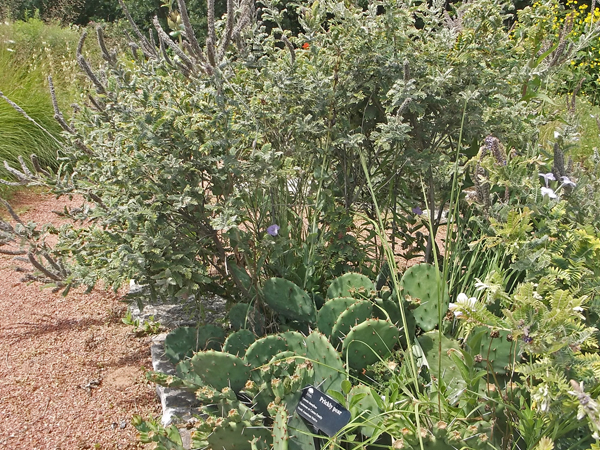 Prairie Dropseed Grass (Sporobolis heterolepis) lined one part of the pathway in the garden.  Prairie Dropseed is a great "facer" plant.  It provides a neat, elegant, transition from taller plantings to lawn, or in this case, the stone pathway.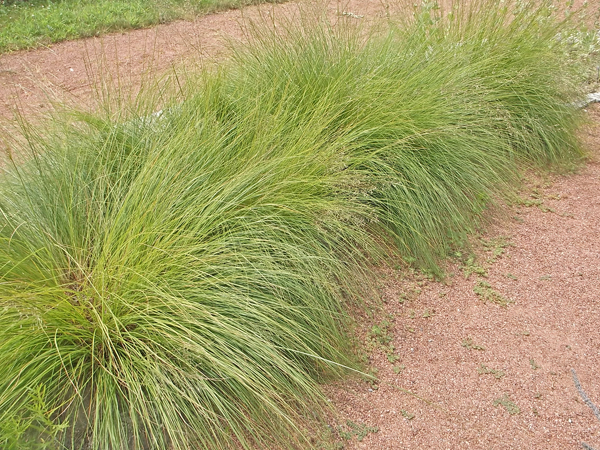 The Large Flowered Penstemon (Penstemon grandiflorus) is another blue-gray leaved plant used in this garden.  While I've seen it growing in the sandy dunes along Lake Michigan, it is a native of the shortgrass prairies to the west of Illinois and prefers well drained soils.  True to its name, it has large, one inch, tubular, pink flowers in June, making them attractive to hummingbirds.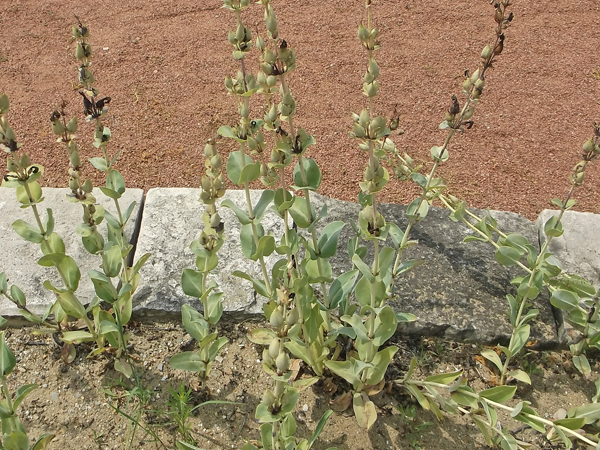 Rough Blazingstar (Liatris aspera) had a very interesting airy form with round, knobby, flower buds, that will be opening in the next week or so; starting at the top, and working its way down the flower stalk over many days.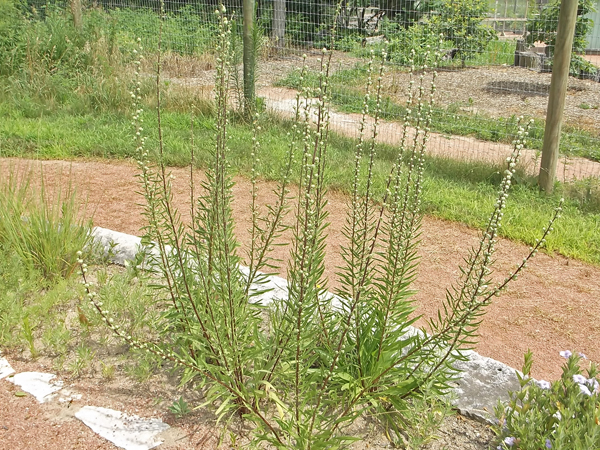 Wild Petunia (Ruellia humilis) is an under utilized plant.  It was doing well in this dry, sunny garden, but I have also seen it grow, and have grown it, in much shadier gardens.  In flower, it looks good planted in a mass, however, it is probably best used informally throughout the garden, tucked among other plants, such as coneflowers or blazingstars.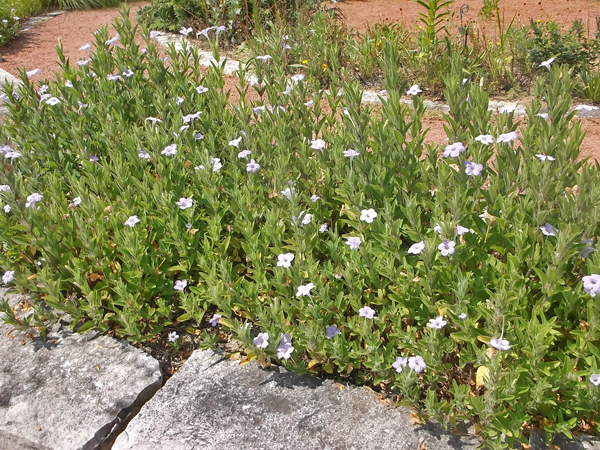 A close-up of the Wild Petunia:

Just beyond the raised native plant garden, were beds of taller wildflowers, including this Cup Plant.  This had got to be the number one bird and butterfly attracting  wildflower.  It is also one of the most adaptable.  It is named Cup Plant, because of its ability of hold water where the leaf attaches to the stem.  I have seen goldfinches use this feature and come back again, once the seed that is produced is ready to eat.  Full sun or part shade is fine for this plant.  Use it where you need something big and bold, and place it in the garden where it can be seen from the house, so that the visiting wildlife can be viewed while sipping your morning coffee.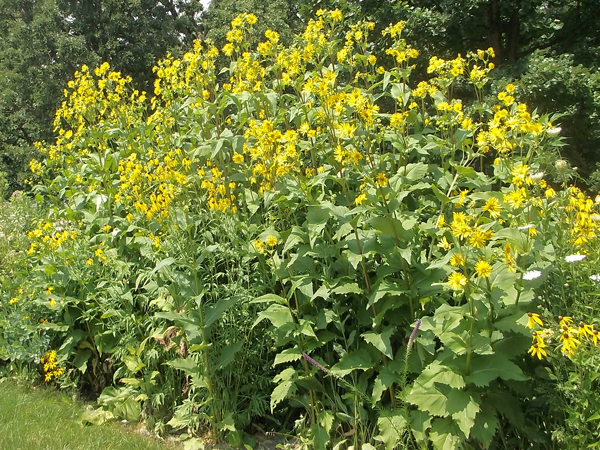 The is a lot more to see at Taltree Arboretum & Gardens, than what I have shown here.  Many areas, including the children's garden, with goats and chickens, are designed specifically to entertain and educate the younger crowd while being surrounded by sights and sounds of nature.  There are also music concerts throughout the summer months, yoga classes in the morning, and educational classes throughout the year.  This hidden gem is only a short drive from many large cities, including Chicago, and is a great way to unwind and experience nature's wonders.